RemoteHybrid, DXC, and Haworth partner to seamlessly deliver work-from-home furniture
RemoteHybrid provided a platform for seamless ordering and distribution of work from home furniture. Coordinating with Europlan, Haworth, and DXC Technology, RemoteHybrid was able to quickly outfit 200 employees across New Zealand with company-approved home office bundles.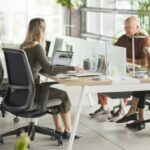 In this case study from Europlan, see how RemoteRetail Partnered with Furniture Supplier Haworth and Europlan to deliver ergonomic furniture for their teams and staff working remotely from home.