A global marketplace for your remote or hybrid workforce. Employees order the products and accessories they need for an optimal work environment—anywhere in the world.
1. Your employees—no matter their location—provide information about their specific work environment.
2. The platform identifies their needs and presents company-approved and company-paid-for workplace equipment.
3. Your employees easily place an order for equipment that is shipped directly to them from company-selected suppliers.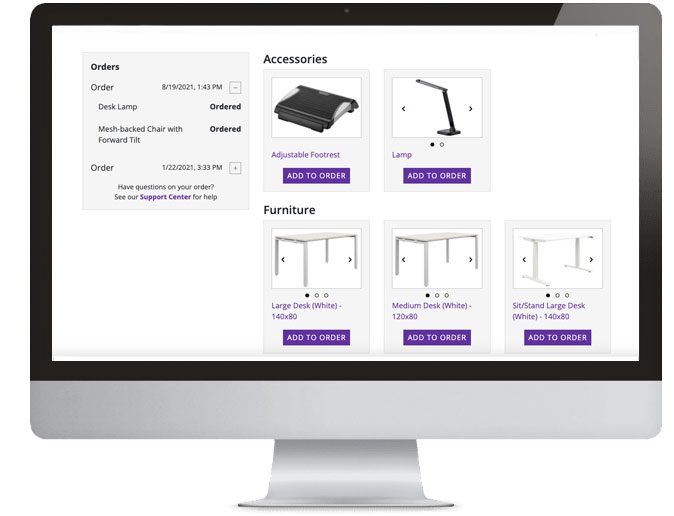 All-in-One
Centralized ordering, tracking, delivery, and inventory management of work-from-anywhere essentials. Consolidate your orders, integrate supplier communications, reduce internal approvals, and eliminate the headache of managing inventory--all from the ease of a single platform.
Global, Full-Service Coverage
Pre-built integrations and easily customizable business rules to meet your needs globally. Currently servicing users in over 60 countries.
Established Suppliers
Fully integrated with 15 of the world's leading workplace product suppliers, including Wesco, Haworth, and Intellivectra. Prices are negotiated in advance and the costs are low.
Robust Reporting
Supplier and order performance is tracked and reported so you can make the right purchase decisions for your business.
Scale Your Business
Flexible per month, per employee SaaS pricing model scales up or down to meet business needs.
For Employers
Attract and retain your work-from-anywhere workforce. The enterprise can better manage its procurement processes and minimize the typical red tape delays and multi-layered approvals that frustrate employees and burden managers. Equipment ships from the manufacturer, eliminating the need to manage inventory. Reduce the onboarding process and streamline equipment acquisition so that your employees can focus on the work that matters most to your business.
For Employees
Employees can directly access the RemoteHybrid platform and select from company pre-approved work-from-anywhere products personalized for each employee using country-specific catalogs. The RemoteHybrid platform is self-help-oriented and employee-driven. In addition to ordering products, employees can track the delivery status of their orders and obtain support utilizing the platform's user-friendly and robust features.
RemoteRetail, DXC, and Haworth partner to seamlessly deliver work-from-home furniture
RemoteRetail provided a platform for seamless ordering and distribution of work from home furniture. Coordinating with Europlan, Haworth, and DXC Technology, RemoteHybrid was able to quickly outfit 200 employees across New Zealand with company-approved home office bundles.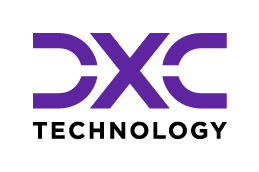 "At DXC, we have embraced a work-from-anywhere model for our global workforce of over 130,000, situated in 70 different countries. Faced with the logistical and administrative challenges of getting our team members the tools and equipment they need to perform most effectively, we had to find a uniform and efficient way to deliver company-approved equipment and accessories. RemoteHybrid has been instrumental to our success in rapidly developing and deploying an employee-centric and user-friendly platform that enables product selection and delivery as well as procurement and inventory management. Employee response has been overwhelmingly positive. Our employees are happier, more engaged, and are working and collaborating more efficiently. RemoteHybrid has delivered for us, reducing red tape, eliminating needless distraction, and expediting our ability to get our team members the tools to meet the needs of our valued customers."
Chris Drumgoole

CHIEF OPERATING OFFICER, DXC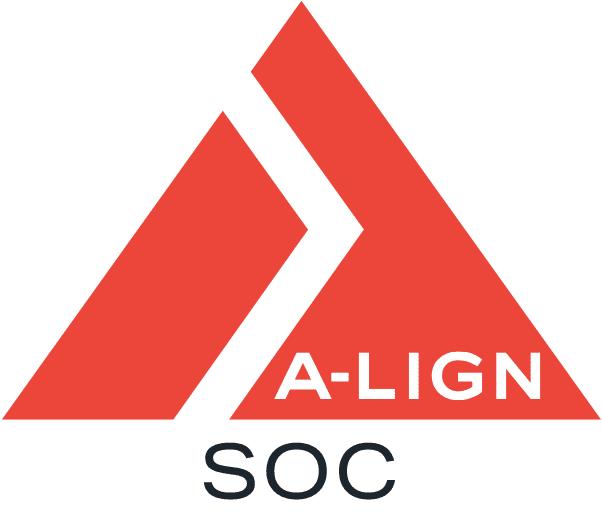 "I love this service and have given rave reviews. [It] makes it much easier to work from home!"
"The process is smooth, seamless, and easy!"
"I just read the email that my equipment has been sent, and literally within 5 minutes my doorbell rang, and it was delivered."
"The system is working brilliantly!"
"Overall the experience was great and I could complete the order in less than 5 minutes."
Increased employee satisfaction. Improved productivity. Optimized operations.